PsychoScrum League Season 20
Commissioner:
Cloud
Vice-Commissioner:
ParCAT, supratank
Game times are
Wednesday
evenings at
7 pm PST (10 pm EST)
.
OFFICIAL PSL20 Rules:
Rules are based on the rules ion PSL17, except for the fact that Skyping is allowed:
Read 'em here!
OFFICIAL PSL19 HOSTER:
Mr. Phobik is providing us smooth low ping servers located in east central United States with west coasters with below 100 and lower pings elsewhere!
SCHEDULE: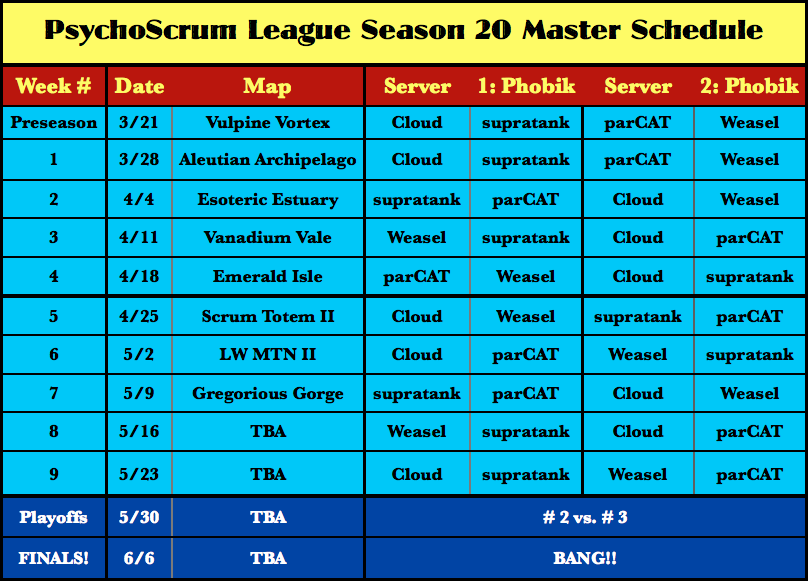 SCOREBOARD: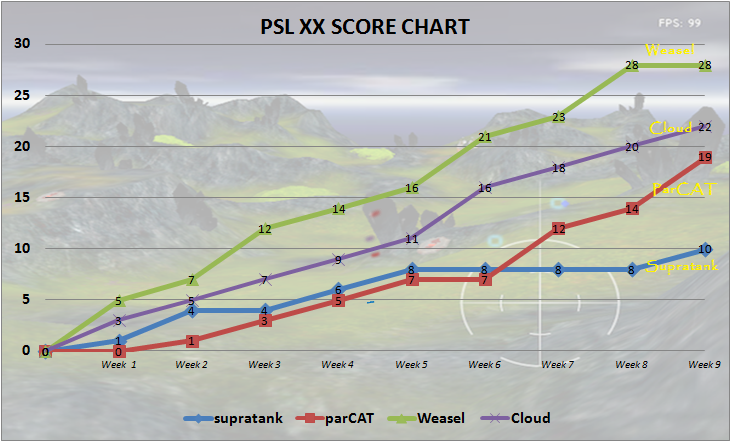 Maps have been chosen from among the new Roo PSL maps and some old-time classics (Map Summary below). This strikes a balance in map size, speed and style. These are all new maps for PSL which have not been played in recent memory providing players with a fair yet exhilarating experience.
ROSTER:
-------------------------------------------------
Fine Print: If you haven't played TT for a few months and are just dropping back in, first of all: Welcome Back! Second of all, the master server is dead (for realz). So in order to see the server list, you will need to follow the simple instructions here to redirect your TT application to the new master server that Phobik has generously created for us.
SERVER SETTINGS: In PSL we use wide open port settings to minimize lag. This is an easy modifcation you can do to your TT application that will increase the maximum speed that data can flow in and out of your comuter to the server. NUTS! and several other folks worked very hard to optimize these settings (which are the same as last season). If you haven't done so already, please follow this brief tutorial:
http://nutstank.googlepages.com/changingthepref.cs
It is imperative that all players do this!
--------------------------------------------------
------------------------------